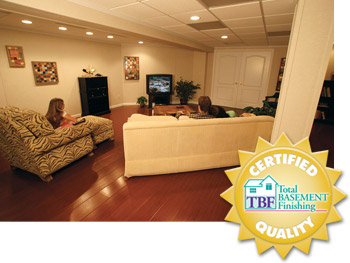 Basement Systems U.S.A. works hard to satisfy their customers in every way possible. We now offer total basement finishing that can transform your basement from wet and unfinished to dry, new, and beautiful!
Our locally owned company has a complete system to finish your basement not only for the next couple years, but for a lifetime. The products we offer are dependable and highly efficient with a 50-year warranty on EverLast Wall Restoration and a 30-year warranty on ceiling tiles. This is a remodeling experience you don't want to miss!
Basement Systems U.S.A. offers insulated walls, waterproof floors, and no-sag ceiling tiles that would be ideal for any basement. There's no need to shop around for different companies- we offer it all! Our products can help you transform your basement into a kids play room, home gym, home office, home theater or anything else. These quality products are designed to work in every basement and will stay in style for years and years to come.
Installing the Total Basement Finishing Systems is an investment that is definitely worthwhile. Contact Basement Systems U.S.A. for free estimate on
basement finishing in Philadelphia
and the surrounding areas today.